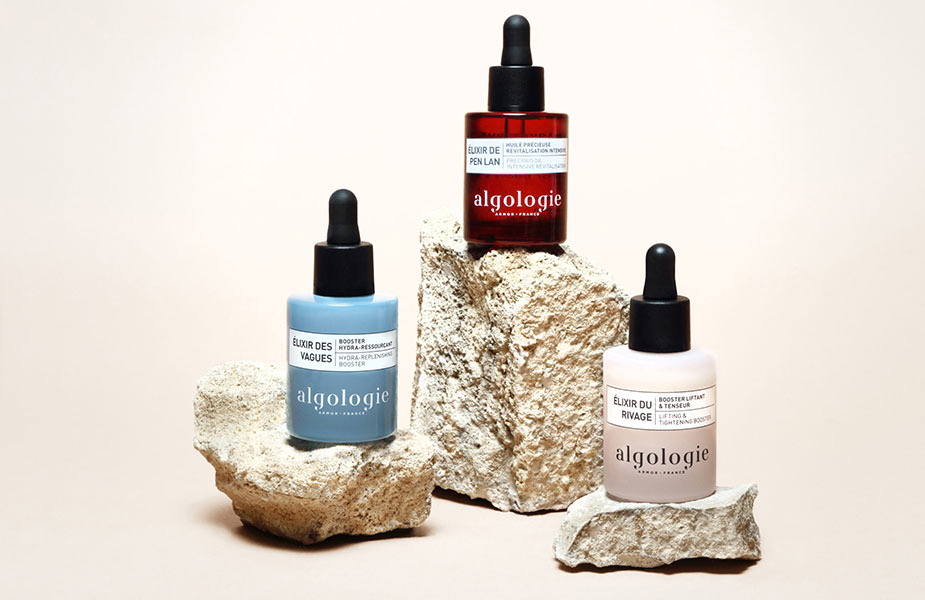 with marine active ingredients
Sensoriality and effectiveness combine to deliver all the benefits offered by bathing in the sea. Range of Waves, Shore, Marine Garden… Treatments suitable for all skin types and for all ages.
< p>0% PEG, PARABENS, MINERAL OIL, PHTHALATE, PHENOXYETHANOL AND SILICONE.
ANTI-AGEING
REMINERALISING
MOISTURIZERS AND SOFTENERS
CLEANSERS AND EXFOLIANTS
THE REFRESHING
ANTI-AGEING
ALARIA ESCULENTA
Protects the skin from damage caused by free radicals.
SALICYLIC ACID
Its natural peeling effect will promote exfoliation and illuminate the skin.
ALLANTOIN
It comforts and softens the skin.
BIO POLYMER MARINE
Retains water inside of the epidermis to reduce the appearance of wrinkles and smooth the skin.
VEGETABLE BIO POLYMER
Reduces the fragility of the eye area and diminishes the appearance of bags under the eyes .
BLUE THISTLE
Allows the skin to produce all the elements that improve its vitality.
CHONDRUS CRISPUS
Immediate lifting effect by providing a protective film on the surface of the skin.
MARINE ALGAE EXOPOLYSACCHARIDE
Improves skin tolerance by strengthening and protecting the hydrolipidic film.< /p>
CENTELLA ASIATICA EXTRACT
Revitalizes demanding skin or skin damaged by external aggressions.
DIATO EXTRACT MÉE
Reduces the appearance of aging skin.
FUCUS EXTRACT
Improves the overall appearance of the skin, hydrates and firms. p>
DICTYOPTERIS OIL
Intensely plumps the skin.
LAMINARIA DIGITATA
Extract rich in alginates and polyphenols known for their exceptional anti-aging properties .
MARINE POLYMERS
Helps reduce the appearance of dark circles.
MINERAL POLYMER
An oxygenating mineral polymer that releases bubbles oxygen to the surface of the skin.
PORPHYRIDIUM CRUENTUM
Improves oxygenation of the skin.
UNDARIA PINNATIFIDA
Revives the natural systems of protection against oxidative stress.
VITAMIN E ACETATE and NATURAL
Antioxidant and scavenger of free radicals.
REMINERALISING
MOISTURIZERS AND SOFTENERS
CLEANSERS AND EXFOLIANTS
THE REFRESHING